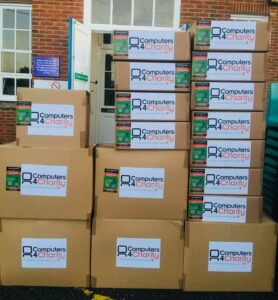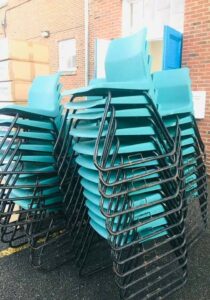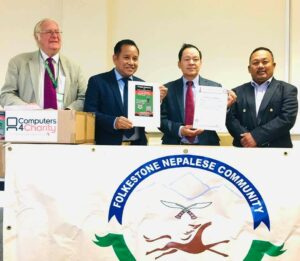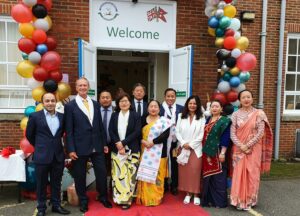 Members of the Gurkha Memorial Fund were able to support the new Nepalese and Gurkha community centre in Cheriton, Folkestone recently. We provided essential equipment and support including 11 new computers, tables and chairs for the new Computer Centre within the new Library location.
This new facility similar to our overseas projects will provide IT skills facilities to the local community for all to share within the new Computer Technology Centre area within the building.
Mr Dhan Gurung, Chairman, commented:
"I am pleased and proud we have supported my own Folkestone, Gurkha and Nepalese community. We are delighted to have been able to help the future prospects of residents with this facility and it will bring many benefits within the scope of IT aspects and we are confident will help with future educational needs and job prospects.
I would like to pass on our thanks to all including: Chairman Mr Dhan Gurung of the Gurkha Memorial Fund UK and trustees; Mr Ray Johnson International Project coordinator, Mr John Barber, Mr Dave Hutchinson, Mrs Alka Gurung, Ms Lara Hussaini and Ms Dorothy. In addition all friends and supporters of the Gurkha Memorial Fund UK & Nepal who continue to support our many projects here and overseas".
Mr John Barber, Trustee, commented:
"The Gurkha Memorial Fund was able to provide much needed support for the new Computer Centre for the Nepalese Community at the Cheriton Library. As a Trustee I was proud to be part of this and attend the inauguration of this local project".
The fund has in the past supported many computer sites within Nepal and more recently assisted with vital funds and equipment in relation to the Covid crises. We continue to support the local community with food and clothing and hold our memorial service each year within the town.
To donate please visit: Make a Donation – Gurkha Memorial Fund  or email rdjohnson2020@outlook.com or telephone Ray Johnson 07968 290352.